Regular price
Sale price
$28.00 AUD
Unit price
per
Sale
Sold out
GENTLE BABY LOTION
Nourish and protect your little ones sensitive skin with our beautiful daily use baby lotion. Created with natural, botanical ingredients ideally suited to babies and children, the light and creamy lotion leaves bubs feeling soft and smooth.

Nurturing natural oils, extracts, and butters, work together to nourish and soothe the skin. The combination of gentle ingredients create a barrier protection on the skin to prevent against moisture loss.
Certified Vegan and Cruelty Free.
~ Key Ingredients  ~
Shea Butter - Helps keep skin soft, supple and resilient by creating a protective barrier. Ideal for dry skin, its anti-inflammatory properties help soothe redness and irritation.
Cocoa Butter - Richer and more denser than many other moisturisers, it is ideal for dry, sensitive, and fragile skin. A natural moisturiser and skin protector, it has an incredibly high content of Vitamin E.
Jojoba -  A hypoallergenic, hydrating oil that holds and maintains moisture in the skin. Particularly good for dry skin in babies, its waxy nature allows it to create a soothing seal on the skin surface.
Marshmallow Extract - Healing, softening, and hydrating. This gentle extract leaves a soothing and softening feel on the skin.
Oat Extract - Known to have anti-inflammatory, anti-irritant, and moisturising characteristics. When used topically, Oat Extract helps to soothe, smooth, and nourish skin and hair. Ideal for sensitive skin and baby care products.
Avocado Oil -  Protective and nourishing Avocado Oil holds and maintains moisture on the skin and scalp. Rich in vitamins, and antioxidants, this calming oil helps comfort and cool.
Milk Thistle Extract - Has a high content of natural Vitamin E and Linoleic Acid to help restore the skin's natural moisture barrier. 
Ingredients

Full Ingredients & Shelf Life
Aqua, Cocos Nucifera (Coconut) Oil, Cetearyl Olivate, Avena Sativa Kernel (Oat) Extract, Butyrospermum Parkii (Shea) Butter, Prunus Armeniaca (Apricot) Kernel Oil, Theobroma Cacao Seed (Cocoa) Butter, Sorbitan Olivate, Stearyl Alcohol, Althaea Officinalis Root (Marshmallow) Extract, Glyceryl Stearate, Persea Gratissima (Avocado) Oil, Silybum Marianum (Milk Thistle) Extract, Simmondsia Chinensis (Jojoba) Seed Oil, Lavandula Angustifolia (Lavender) Oil, Citrus Nobilis (Mandarin) Oil, Anthemis Nobilis Flower (Chamomile) Oil, Gluconolactone & Sodium Benzoate*, Cetyl Alcohol, Xanthan Gum.*Ecocert | Cosmos Approved

ALLERGIES: Check ingredients for known or suspected allergies before use.

Our Baby Lotion has a 12 month shelf life once opened. Please see the bottom of the product box or base of the bottle for expiry date.
FAQs

Can I use this Lotion on my babies dry scalp?
Yes! Our Baby Lotion is enriched with nurturing natural oils, extracts, and butters, work together to nourish and soothe the skin.

After bathing, gentle pat excess water from your little ones scalp, and apply a thick layer of lotion over the effected dry area.

Allow the cream to absorb over night and gentle brush away any dry patches that have released from the skin in the morning. Repeat the process nighty as needed.

My baby has very dry skin, is this Lotion suitable?
It is very common for babies to have dry skin and for for newborn babies to have peeling skin for a week or two after birth. When a baby is born their skin is yet to be fully developed, in fact it takes 2-4 years for a childs skin to reach such maturity.

A baby's outer layer of skin is thinner than that is an adults and as a result can be prone to moisture loss and dryness.

Long hot baths can often deplete the skin of its natural oils. So we recommend short luke-warm baths. You can most certainly use our Baby Wash, which has been created for delicate infant skin, following the directions for use.

After bathing, pat your little one dry with a towel (don't vigorously dry them as this may further irritate dry skin), and apply a layer of our Baby Lotion to the body. Applying the Lotion immediately after washing will help lock in their moisture on their skin from the bath.

How much Lotion do I need to use on my child?
A little goes a long way on tiny people.

A full pump of Lotion would be enough to moisturiser a toddlers body, so a pea size amount is most certainly enough for a smaller infant.

DIRECTIONS FOR USE: Warm a small amount of lotion between hands and gently apply to the skin.

NEWBORNS: Newborn babies need very little product when it comes to skincare. A fraction of a pump is enough for tiny babies.

PRECAUTIONS: Always patch test before use. For external use only. Discontinue use if irritation occurs. Avoid contact with eyes. Store in a cool place, out of direct sunlight.

Does this Lotion have an aroma?
Our Baby Lotion has a beautiful ultra soft aroma of Lavender and Mandarin.

The aroma is super subtle, and created with essentials oils used at less that 50% of the recommended percentage for babies and infants.

Lavender Oil - helps to calm and soothe, reduce itchiness and is great for healing.

Mandarin Oil - has a very gentle action, it is used in France by Doctors of Aromatherapy for children's complaints. Apart from being a skin soother, it is wonderful for childrens' temper tantrums!

Share
View full details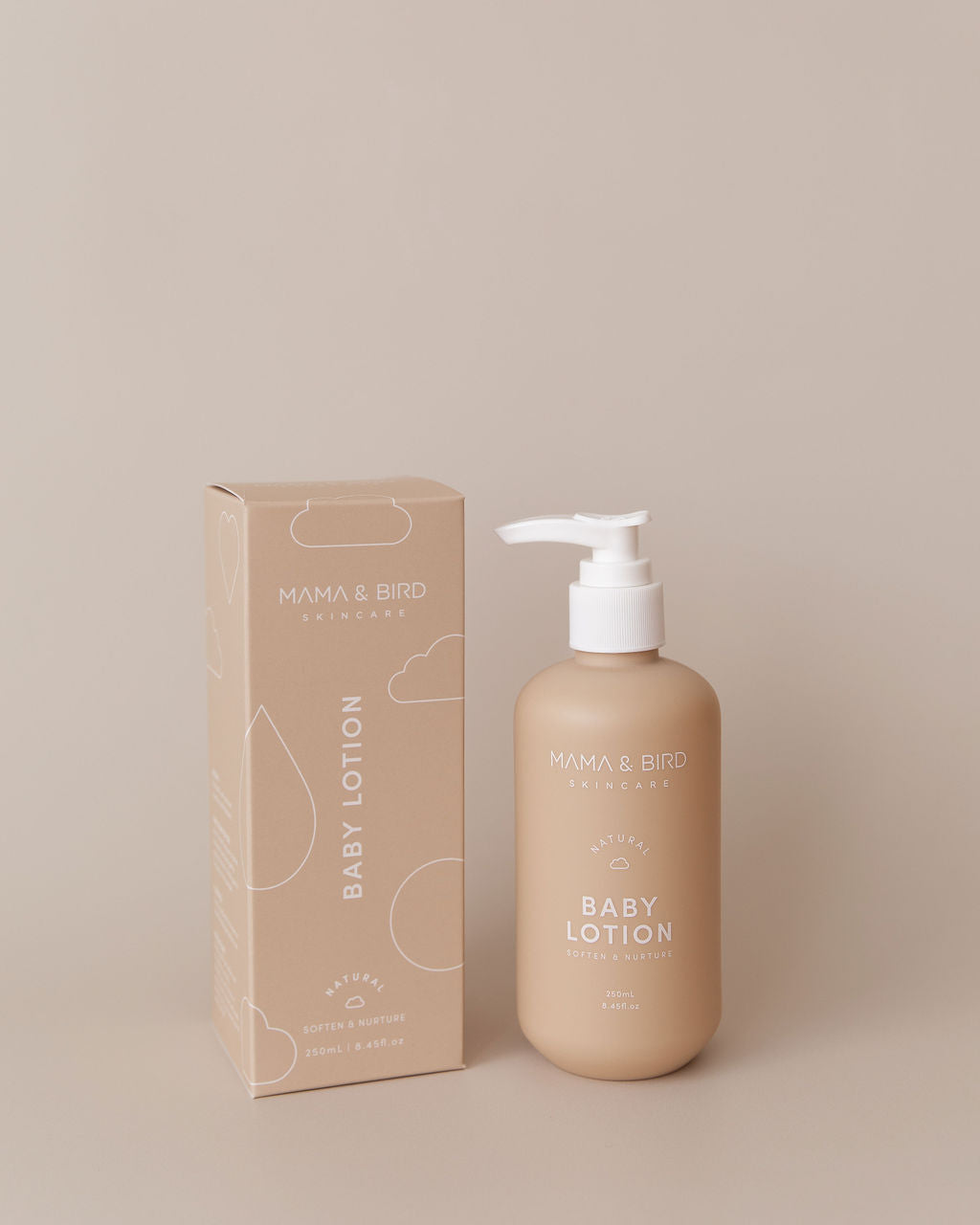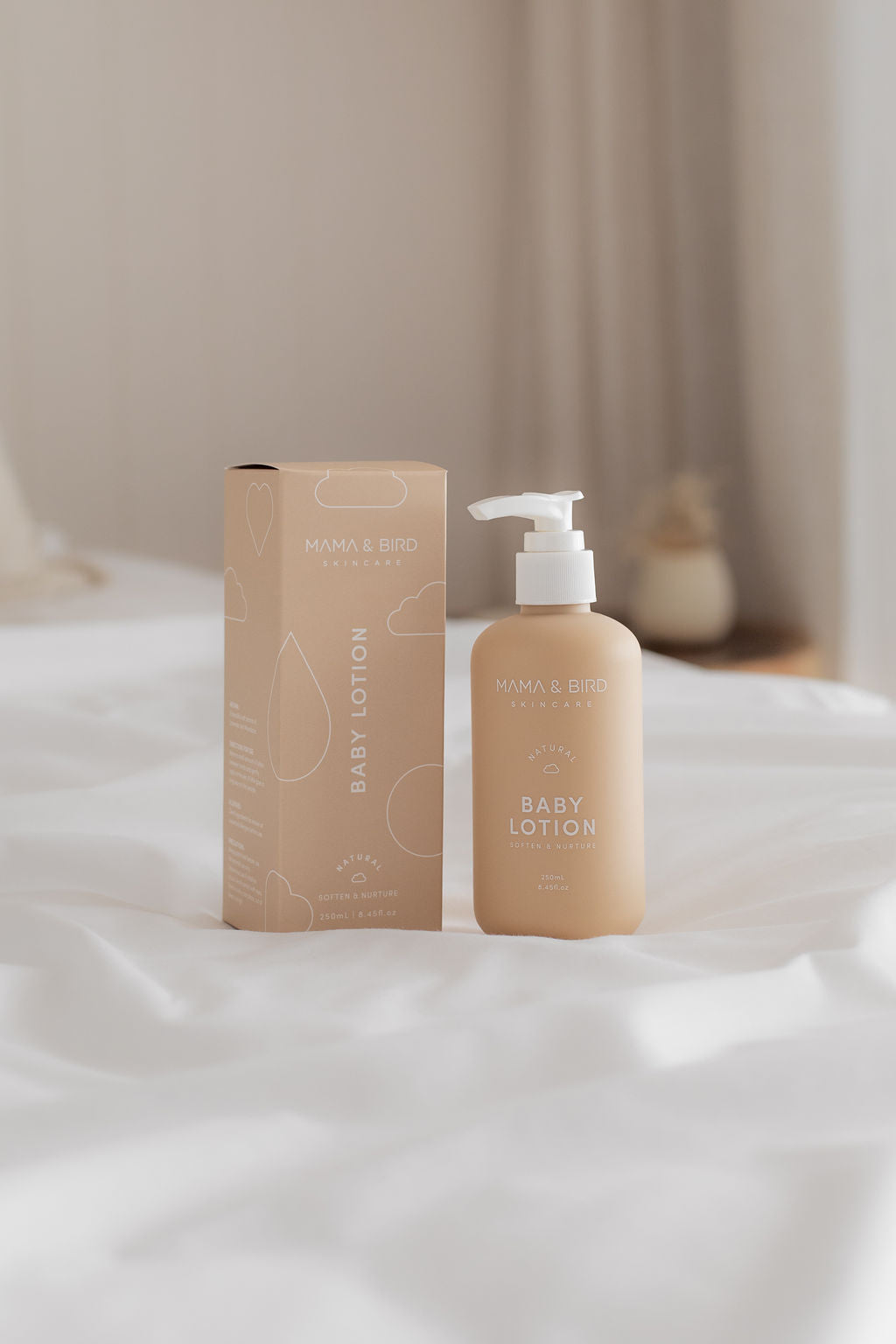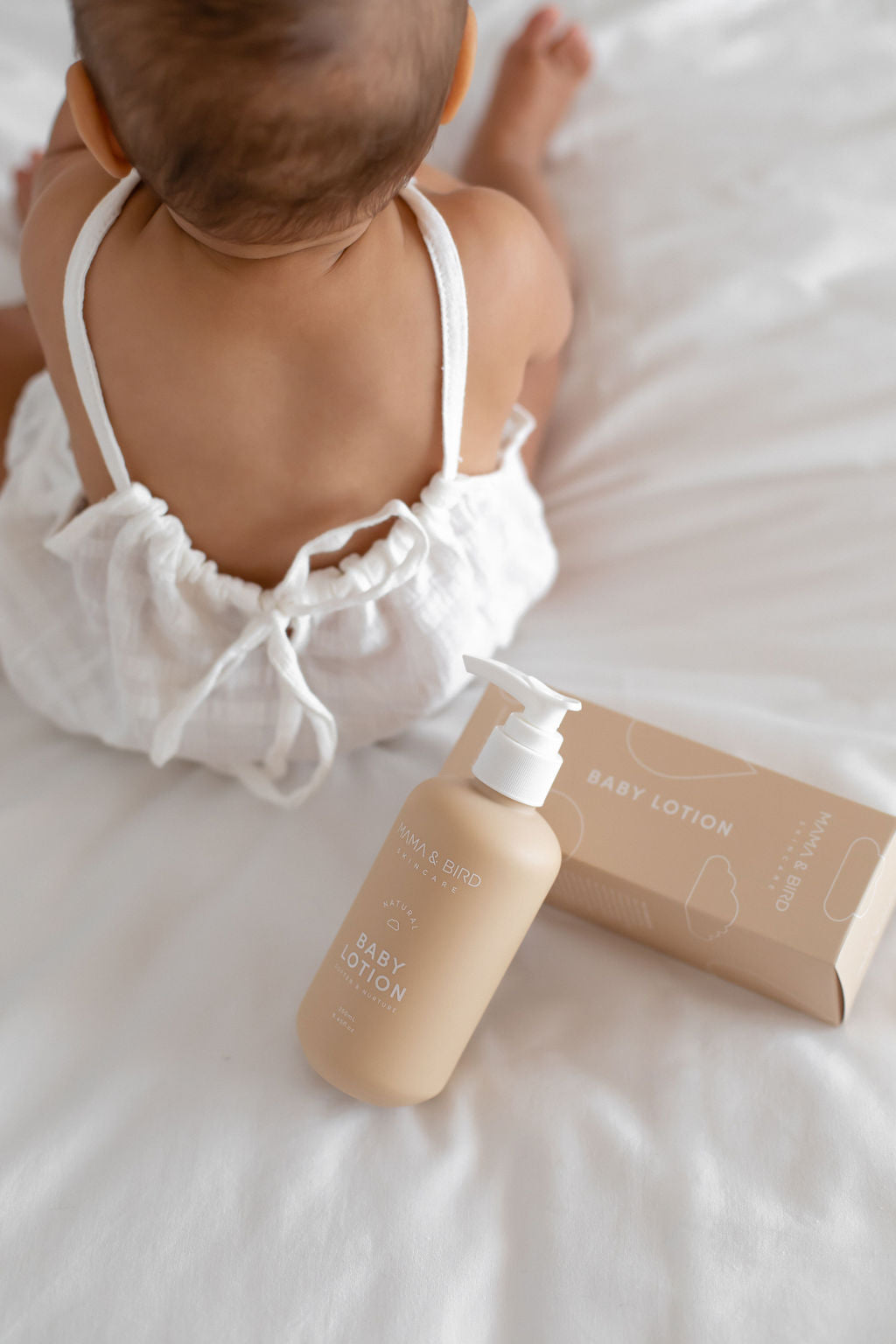 Magic Moisturiser 🪄
No, seriously, this cream works wonders. My newborn had peeling skin that seemed to worsen with big name brands which caused more flaking and irritation. After reading reviews online and seeing it sold out, I purchased with the hopes of minimising the dryness. It's completely disappeared after a short amount of time and even my toddlers and I use this instead of our usual cream. The subtle scent isn't overpowering and it's not heavy or oily when applying. A little goes a long way and it's definitely worth the price!